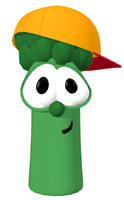 the next exciting episode of VeggieTales! the story of This is a list of episodes from the series ''Wow! Wow! Jubbzy!''. The series premiered on August 28, 2006, with the pilot episode, "A Tale of Tails / Special Delivery". A second season premiered on September 2, 2008, and ended February 21, 2010. he characters were renamed Jubbzy, Pidget, and Talden
The Countertop
Edit
Bob and Larry introduce the show normally for a change They introduce the show normally and then go to QWERTY to get the letter. QWERTY says the letter is from a kid named Kip now Kip once to know that she has to be a kid Bob said that was a tough one, but that they have a couple of stories that just might help. Bob said to roll the film.
Wow! Wow! Jubbzy!
Edit
Everyone refuses to play Kickety-Kickball with Jubbzy because of his long and bendy tail, which isn't the problem at all.
Jubbzy watches a package that belongs to Talden, who isn't home, and he is really tempted to see what is inside it
What We Have Learned
Edit
Larry and Bob liked the story and then it was time to talk about what they learned. They got their verse and then Bob, Larry, and Isabelle said good bye.
Wow Wow Jubbzy Theme Song
Look Look Look Don't Touch Song
What We Have Learned
Wow Wow Jubbzy is parody of Wow Wow Wubbzy
Running Gags
Edit
Silly Song
Edit
None
What We Have Learned song
Edit
Original
Kid They Got a Letter From
Edit
Kip
Bob the Tomato
Larry the Cucumber
QWERTY
Kip
Junior Asparagus (Jubbzy)
Petunia Rhubarb (Pidget)
Tom Turnip (Talden)
Carrots and Peas
Ad blocker interference detected!
Wikia is a free-to-use site that makes money from advertising. We have a modified experience for viewers using ad blockers

Wikia is not accessible if you've made further modifications. Remove the custom ad blocker rule(s) and the page will load as expected.