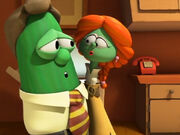 Where Have All the Staplers Gone? is a new sing-along DVD and is an addition to the Sing-Alongs DVD collection, following "His Cheeseburger" and "My Baby Elf." This DVD was released at the same time as "The Forgiveness Song."
Where Have All the Staplers Gone? from Pistachio
113 Years Ago from An Easter Carol
Monkey from The Wonderful Wizard of Has
What's Up With Lyle? from Lyle the Kindly Viking
The Grapes of Wrath from God Wants Me to Forgive Them?!?
Donuts for Benny from Saint Nicholas
Astonishing Wigs from The Princess and the Popstar
Stand! from Rack, Shack, and Benny
The Pirates Who Don't Anything from Very Silly Songs
Happy Ki-Yi Birthday from The Ballad of Little Joe
Chapter Select Music
Edit
Chapters 1-4 is an instrumental of Where Have All the Staplers Gone?
Chapters 5-8 is an instrumental of The Grapes of Wrath
Chapters 9-10 is an instrumental of Happy Ki-Yi Birthday
Transition
Edit
The music clip when the song transition scene appears is a bit from The Thankfulness Song
Ad blocker interference detected!
Wikia is a free-to-use site that makes money from advertising. We have a modified experience for viewers using ad blockers

Wikia is not accessible if you've made further modifications. Remove the custom ad blocker rule(s) and the page will load as expected.