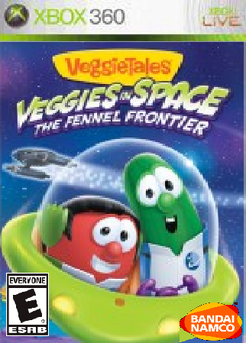 Veggies in Space: The Fennel Frontier 
is a puzzle game developed by Bandai Namco for the Wii U and Xbox 360. It is the third VeggieTales video game to be a multi-platformer. The game features gameplay mechanics similar to the 
Rack, Shack, and Benny game
 and the 
Silly Little Thing Called Love game
. Gameplay is also similar to Mario Party, Crashmo, Professor Layton, Kingdom Hearts, and Tetris. The game includes different puzzles such as guiding Captain Cuke and Mr. Spork through a maze on their way to Tootanny, and hitting the correct notes when Luntar the Looter sings the song "Good for the Grabbing".
Ad blocker interference detected!
Wikia is a free-to-use site that makes money from advertising. We have a modified experience for viewers using ad blockers

Wikia is not accessible if you've made further modifications. Remove the custom ad blocker rule(s) and the page will load as expected.