Veggie Pirates!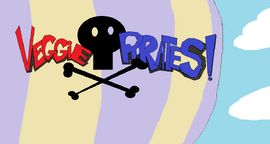 Taking place at sea a war between Mr. Destruction's (Goliath's) Pirates and Elliot's (Bob's) Pirates causes Chaos. An adventure featuring favorite veggie characters into an action packed pirate comic.
Elliot's Pirates
Edit
Bob as Elliot
Larry as Ricky
Mr. Lunt as Lawerence
Junior as Eric
Phil Winklestein as Frank
Ziggy as Himself
Ellen as Herself
Jimmy as James
Jerry as Himself
Peach as Norman
Archie as Lewis
Vicki as Rebecca
Charles Pincher as Charlie
Petunia as Rose
Scooter as Chris
Nicholas the Pepper as Nick
Kahlil as Himself
Big Jim as Himself
Silias as John
Espresso as himself
Chog Norrius as Cole
Bok Choy as Chicken Man
Barth as Himself
The Pigs as Pirate Goons
Cassie Cassava as Herself
Dark Crow as Himself
Scarlet Tomato as Himself
Gabe as Himself
Mr. Destruction's Pirates
Edit
Goliath as Mr. Destruction
Eckstein the Leak as Destruction Jr.
Scallions as Themselves
Mandrid the Orange as Himself
Buzz Saw Louie as Himself
Palmy as Co Co
Miss. Achmetha as Acky
Madame Blueberry as Miss LaBlue
Pa Grape as Papa Grape
George as Lucas
Annie's Dad as Xavier
Gustav as Himself
The Grim Tickler as Reaper
Bruce Onion as Destruction Sr.
Evil Mirror as Destruction Boy
Robert The Terrible as Himself
Fib as himself
Rumor Weed as herself
Curly as Himself
Bad Apple as Herself
Sporks as Themselves
Po Ta To as Himself
Wicker as Himself
Lemon Twist as Herself
Eenie Meenie and Michael as Themselves
Other Characters
Edit
Grandma Gourd as Teacher of Wisdom
Libby Asparagus as Selina
Sara Ruhbarb as Penny
Bob, Mark and Steve the cucumbers as Themselves
Mabel and Penelope as Mr. Destructions servants
Esther as Rose's Sister Renee
Tutu as Himself
Aunt Ruth as Herself
Hope as Angel of Pirates
Snooderella and Snoodledoo as Pirate Wizards
Eloise as Rose and Ricky's Daughter Sasha
Laura as Hostage
Emma Stewart as Hostage
Cameo Characters
Edit
Gordon as Himself
Art Bigotti as Himself
Lovey as Herself
Blue Lobster as Himself
Henry the Potato as Himself
Alexander as Himself
Grandpa Zuccini as Himself
Betty as Herself
Gourdy as Himself
Benny as Himself
Equipment
Edit
Elliot's Sword: Sword used by Elliot. It was used to slay a pirate in the 1800s
Mr. Destruction's Sword: Used by Mr. Destruction. It was used to slay the president in the 1900s.
Pirate Wizard Wands: Used by Pirate Wizards to cast spells.
Wisdom Book: Used by the Teacher of Wisdom to teach.
Ad blocker interference detected!
Wikia is a free-to-use site that makes money from advertising. We have a modified experience for viewers using ad blockers

Wikia is not accessible if you've made further modifications. Remove the custom ad blocker rule(s) and the page will load as expected.