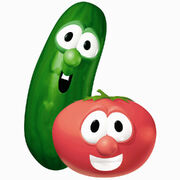 Moe and the Big Exit
The Wonderful Wizard of Ha's
Tomato Sawyer and Huckleberry Larry's Big River Rescue
Abe and the Amazing Promise
Minnesota Cuke and the Search for Noah's Umbrella
Pistachio The Little Boy That Woodn't
Sweetpea Beauty A Girl After God's Own Heart
It's A Meaningful Life
Twas The Night Before Easter
Princess and the Popstar
Robin Good and his Not So Merry Men
The Penniless Princess
The League of Incredible Vegetables
The Little House That Stood
MacLarry and the Stinky Cheese Battle
Veggies in Space: The Fennel Frontier
Celery Night Fever
Ad blocker interference detected!
Wikia is a free-to-use site that makes money from advertising. We have a modified experience for viewers using ad blockers

Wikia is not accessible if you've made further modifications. Remove the custom ad blocker rule(s) and the page will load as expected.