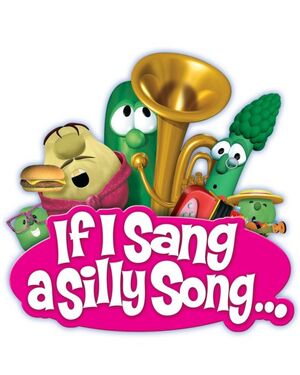 A Very Sing Along Songs is the seventh episode in the VeggieTales animated series. Released in March 1997, it is the first of several sing-along videos. It features the four Silly Songs with Larry that had been released to date along with a half dozen others from the first five episodes. It also introduced the popular "Pirates Who Don't Do Anything" whose Silly Song appears here for the first time.
This episode starts immediately with the counter top, initially skipping the theme song. Larry the Cucumber, thinking this is the very first "VeggieTales workout video", begins a jumping workout in time to generic, upbeat workout music, then proceeds to trampoline exercises. However, after jumping progressively higher, he hits his head on the cupboards... again and again.
Bob then comes on-screen and explains that this is actually the very first "VeggieTales sing-along tape". To demonstrate, Bob has the French Peas type some lyrics on Qwerty, making the words appear at the bottom of the screen so people can sing along at home. However, they don't stop even after Bob stops singing, and the scene degenerates into true chaos as Bob yells "Roll tape!".
After several songs, Larry, yet again misunderstanding the point of the sing-along, introduces the kids to the very first "VeggieTales home improvement video". Larry announces his plan to replace a leaky fixture on the sink with a new one "which will be quite attractive, and last for years to come." However, Jimmy Gourd doesn't turn off the water supply for the kitchen (he thought they were working on bathrooms and decks), sending Larry flying into the air by a geyser of water when he twists the fixture off.
After some more songs, Bob comes out to introduce his favorite song, "The Bunny Song". However, when one of the French Peas tells him that they're not supposed to sing it (it was the equivalent of Nebuchadnezzar's idol in Rack, Shack, and Benny, Bob clarifies by calling it "The New and Improved Bunny Song", in which the original lyrics and their negative implications have been (mostly) replaced with more positive messages.
Larry then introduces his home-viewers to the very first "VeggieTales financial success video". Bob comes onscreen and finally explains the sing-along theme to Larry, who then asks what song they'll do first. Not wanting to explain now that they're already almost done with the show, Bob walks off, and Larry boasts to him about having bought a chocolate factory with no money down.
The final song of the tape is a completely new "Silly Song with Larry". Larry the Cucumber, Pa Grape, and Mr. Lunt are the "infamous band of scallywags: The Pirates Who Don't Do Anything." The entire song consists of nonsensical tales of what each of the Pirates have never done. When Larry makes purely random statements of what he has never done, Pa Grape and Mr. Lunt berate him and say he should sing about "pirate-ty things." When Pa Grape asks Mr. Lunt for his opinion on whether Larry is making no sense, Mr. Lunt says Pa Grape looks like Cap'n Crunch. After they gainsay each other and Pa Grape sentences Mr. Lunt to walk the plank, Larry sings another verse of nonsense. Pa Grape declares Larry does not understand what they said previously about his singing; they finish the song with the refrain "And we've never been to Boston in the fall." They decide to watch Hiraldo, and Larry finds a quarter.
Larry's Workout Video (Instrumental)
The New Adventures Of Winnie The Pooh Theme Song (Instrumental)
Brandy and Mr. whiskers Main Theme
Try A Little Something New
The Lobster Mobster's Mob (from The Little Mermaid TV Series)
Larry's Home Improvement Video (Instrumental)
That's What Friends Are For
Friendship
Yummy, Yummy, Yummy (8 bit)
BT - Original Theme (from Partysaurus Rex)
Lopez Nya Nya Style (Gangnam Style)
The New and Improved Bunny Song
Larry's Success Video (Instrumental)
Show Off Your Best (reprise)
It Only Takes a Moment (from WALL-E video game)
The Pirates Who Don't Do Anything
Timon and Pumbba End Credits
This is the first appearance of The Pirates Who Don't Do Anything.
If you watch the credits, the animators for the Pirates Who Don't Do Anything are given pirate nicknames, for example Mike "Old Spice" Nawrocki.
The first appearance of Phillipe Pea, the other Pea that appeared in "Dave and the Giant Pickle" was named Christophe Pea. You can tell by the differences in the voices.
In Larry's "success" video, he says to Bob that he bought a whole choclate factory with no money down. Though we hear nothing more about it afterwards.
Its The Dance Battle Of Merdoc From Gorillaz And Ilona Mitrecey To Dance The Ska-p Remix Medley Its Starts In 1994 And It Ends In 2008 
Sunny and Palmy make appearances as scenery props in Larry's "success" video
The Pirates Who Don't Do Anything" was actually written before VeggieTales was created. Mike Nawrocki sang the song when he was in his second year of college with a couple of quire men from his college when they were going to Boston in the fall
Ad blocker interference detected!
Wikia is a free-to-use site that makes money from advertising. We have a modified experience for viewers using ad blockers

Wikia is not accessible if you've made further modifications. Remove the custom ad blocker rule(s) and the page will load as expected.