The Pirates Who Don't Do Anything 
is a sing-along DVD released and as an addtion to the Sing-Alongs DVD Collection, following "
I Love My Duck
" and "
Supper Hero
". It was released the same time as 
The Yodeling Veterinarian of the Alps
.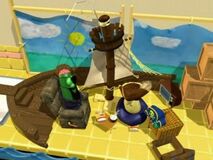 The Pirates Who Don't Do Anything from Very Silly Songs
Right, Right Now! from Abe and the Amazing Promise
Oh MacLarry from MacLarry and the Stinky Cheese Battle
Thankfulness Song from Madame Blueberry
Bellybutton from The Ballad of Little Joe
The Boy that We Call Moe from Moe and the Big Exit
Boids from An Easter Carol
Prince of Ham from Robin Good and His Not-So Merry Men
Hopperena from 'Twas the Night Before Easter
Good Morning, Mister Mayor from The Little House that Stood
Chapter Select Music
Edit
The instrumental for Chapters 1-4 is The Thankfulness Song
The instrumental for Chapters 5-8 is Bellybutton
The instrumental for Chapters 9-10 is Right, Right Now!
Transition
Edit
The transition in between songs is a bit from Dance of the Cucumber.
Ad blocker interference detected!
Wikia is a free-to-use site that makes money from advertising. We have a modified experience for viewers using ad blockers

Wikia is not accessible if you've made further modifications. Remove the custom ad blocker rule(s) and the page will load as expected.