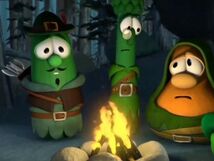 The Legend of Robin Good
is a comic book adaptation of "Robin Good and His Not-So Merry Men". It features 70 pages of colored panels and speech bubbles. It is published by Comix.
Changes from the episode
Edit
There is a mistake, saying Bill Scarlet is "Alvin Crimson".
Parts of the episode cut out
Edit
The countertop segment, Lenny and the Lost Birthday and the Silly Song "Bubble Rap" aren't included.
All singing is changed to speaking.
Additions to the book
Edit
Bill Scarlet comes upon a weakness: missing a great bargain, a direct reference to "The League of Incredible Vegetables".
Flashbacks of A Chipmunk Christmas and Toy Story are seen, as Miss Lewis speaks to Robin.
Ad blocker interference detected!
Wikia is a free-to-use site that makes money from advertising. We have a modified experience for viewers using ad blockers

Wikia is not accessible if you've made further modifications. Remove the custom ad blocker rule(s) and the page will load as expected.