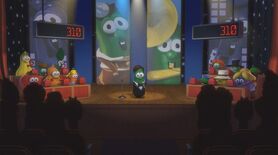 The Larry the Cucumber Comedy Roast
is a special.
In it, the cast and crew of VeggieTales tell jokes about Larry. Featuring Steve McKenzie as Pot Roast and also features guest stars from past episodes like Si Robertson, Terry Crews, Kellie Pickler, Wayne Brady, Melinda Doolittle, Rebecca St. James, Jaci Velasquez and Delilah. Today is George's lucky day—St. Patrick's Day is here! George loves a celebration, and St. Patrick's Day means plenty o' music, dancing, and feasting fun! He dresses up in his festive finest, looks for leprechauns, and learns some Irish dance steps. But can George make it to the parade without causing any trouble? See if his lucky four-leaf clover will come through. Halloween is here, and Curious George is getting ready for the big night. There are so many costumes to try on, treats to share, and games to play! George has so much Halloween fun picking out the perfect pumpkin, decorating his house, and celebrating with his friends that he's not sure he's ready for the day to end. Follow the little monkey through his fun-filled day with this book of poems. Happy Halloween, Curious George is a sweet treat to help Curious George fans of all ages get in the Halloween spirit. There's nothing like waiting for something special and magical to happen. Today George is waiting for a parade to start! But before it does, this little monkey manages to find—and make—plenty of mischief. When the fun gets a little out of control, George must save the parade . . . but will it mean he misses a spectacular end to the day? Each spread features a short poem and the fun tabbed pages are perfect for little fingers! It is the eighth night of Hanukkah, and George and his friends have gathered for a celebration. They light the menorah, spin the dreidel, make latkes, and learn the importance of mitzvah! In this tabbed board book, youngsters will even find a tasty latke recipe and instructions for constructing a dreidel, with rules for play. A festive foil-stamped cover makes this a fine holiday gift for fans of Curious George. Today is Thanksgiving and George is so excited! He loves everything about the holiday—from the parade with music, jugglers, and big balloons to the delicious turkey shared with family and friends. But even on Thanksgiving the curious little monkey manages to stir up some trouble! Follow George through his Thanksgiving adventures with the short poems in this board book. The fun, tabbed pages are perfect for little fingers! Through rhyming text, this shaped board book captures some of the best features of the parade, as seen through the eyes of a child. Min becomes "The Queen Of Make-Believe" and Michael, Shawn, and Tina are the castle staff. She wishes to see Barney (who is dubbed "the royal dinosaur"), later making him king. Barney explains that imagination can turn things into other things. The kids look up at the clouds and start to see shapes, which Tina imagines a tasty rain. Coincidentally, a thunderstorm begins after they finish singing. In the classroom, everyone finds ways to use their imagination, like Tina's pretend tea party. When Michael finds some boxes, Min comes up with trying to build a robot. Barney brings The Barney Bag out to help the kids bring the robot to life. As the kids struggle to find a head for the robot, Barney asks Michael to recite the "Anything String" poem, which shows that even simple things can turn into something else with imagination. Shawn, after hearing this, finds a teapot to use as the head, but as soon as Barney puts it on, the robot comes to life. After the robot performs his song, Michael reveals that it was him inside the robot. While the rain still pours, Michael comes up with the idea of putting on a parade to make the rain stop. This plan works, and soon the sky is clear once more. The kids imagine one last time, pretending the playground platform is a rocket ship. Barney teaches Baby Bop the concept of rhythm, when Barney and his friends begin to start their own Marching Band parade. It's Earth Day and everyone's trying to get ready for the celebration in the park. Ben is wasting paper for his costume for the paper and Barney encourages Tracy and him to help the others clean up the park and remove the trash (including Ben's paper scraps). The kids meet Maya, a friend of Barney's and the person in charge of the parade, who explains how she believes plant seeds are "the seeds of the future." Baby Bop, BJ, and Mr. Copeland, a construction worker, meet up with Barney and the kids and discuss plans for a new playground, which involve a beloved tree in the park being cut down. Tracy explains that there's a bird nest in the tree, but BJ is unconcered about the bird losing its home. Barney tells the dinos and the kids about the Higgledy Piggledy Pear Tree and how there's only one left in the world. Using the , the group travels to the rainforest jungle and meet Mother Nature (who looks like Maya, coincidentally). Throughout the journey, Barney and his friends learn about the animals and plants that the rainforest jungle has to offer. They meet up with Riff and he joins in the quest for the Higgledy Piggeldy Pear Tree. When most of the gang finally find the tree, BJ attempts to get the pear, despite Tracy's warning, and breaks the tree. BJ is panicked and is unsure what he should do. When Barney and Mother Nature find out about the tree, Mother Nature is really sad about it. However, she says that planting the pear, which contains a seed, will grow another Higgeldy Piggledy Pear Tree. Barney and the others help plant the pear in order to bring the tree back. BJ learns that anyone can save the earth, no matter how small the contribution. Having learned his lesson, he helps the others convince Mr. Copeland not to build the playground where the park's tree is and they suggest an open spot across the pond will be better suited for the project. Having saved the tree, the celebration can begin, almost. Tracy suggests using a chip bag to finish Ben's costume for the parade. The parade begins with everyone celebrating our planet, explaining how "everyday is Earth Day". On a road trip to their Grandparents' farm, Abby and her friend Marcella are content playing with a stuffed Barney doll, while Cody believes "kids stuff." At the farm house, Cody takes Barney from the girls and hides him in the shower, where he comes to life. Barney tries to convince Cody that it was his imagination that made him real, but fails to do so. Instead he points out that real dinosaurs don't laugh or talk or laugh- there aren't any real dinosaurs anymore! Cody plays a trick for Barney to disappear, because he doesn't believe in him. For revenge, Barney reappears because he believes in Cody. Wishing to do something no one's done before, an egg shoots down from the sky into the barn. The next day, Barney, Abby Cadabby and Marcella went to have fun on the farm and Cody steps in cow poop all over his new shoes. They find the egg in the barn and the first ring lit up. While going to ask Abby and Cody's grandparents about the egg, Barney heard Baby Fig and went up to check on him. Cody finds Barney in the baby's room and they take the egg to , the local bird lady. They learn it's a dream maker and they have to return the egg before all five of its colored rings light up. Cody loses the egg by knocking it out a passage way and it lands on a bird seed truck. The chase is on! From a parade with a marching band and a visit to Chez Snobbe, a fancy restaurant, to a circus, the kids and Barney are on a persuit for the egg. When a juggler sends it flying, the kids lose all hope of finding it, but Barney tells them to not give up. After learning it ended up on a balloon, the group imagines (with the help of the audience) flying on an airplane made out of a log. Barney's friend, the Collector, has the egg as a ballast (to keep the balloon steady), but after some convincing, he drops it and Abby catches it just in time. Back on the farm, the egg hatches in the barn, revealing a koala-like creature, named Twinken. He shows Abby's dream (to be a jockey and win a horse race) to everyone. Cody apologizes to Barney for being mean to him and admits he thinks he's cool. Barney accepts his apology and tells Cody he thinks he's cool too and the two share a hug. Twinken then shows Barney's dream : "a special time, a special place and sharing it with the people he loves," which leads Barney and the rest of the cast to sing "I Love You." Baby Bop gets sleepy, which prompts BJ to decide that they're ready to go home. The film ends with Barney turning back into a doll with Twinken sitting right next to him, as the two of them wink.
Characters
Edit
Larry the Cucumber
Pot Roast
Bob The Tomato
Petunia Rhubarb
Laura Carrot
Junior Asparagus
Madame Blueberry
Jimmy Gourd
Jerry Gourd
Pa Grape
Jean Claude Pea
Phillipe Pea
Mr. Nezzer
Mr. Lunt
Archibald Asparagus
Dad Asparagus
Mom Asparagus
Phil Winklestien
Frankencelery
Eyeballs
Blue Plastic Lobster
Scallion 1
Scallion 2
Scallion 3
Mabel and Penelope
Lions
Lion Delivery
The Monsters from Junior's Closet
Bible Story Narrator
Junior`s Pet Dinosaur
Lumpy
Monster 2
Monster 3
Silly Song Narrator
Baby Pickle
Mad Scientes Gourd
Mad Scientes Pineapple
Unnamed Shadow Man
Unnamed Voice Women
Ma Grape
Rosie Grape
Tom Grape
Lovey Asparagus
Palmy
Henry
Blue Whales
The Tree
The Sun
Snake
Movie Star
Scooter
Lenny Carrot
Dad Carrot
The Peach
Aunt Ruth
Boy
Girl
Mr. Slushy
George
Baby Meshach
Dwarves
Mom Tomato
Dad Tomato
Larry's Parents
Carrot Guards
Asparagus Singers
Phillastines
Philistine Goliath
Pa Cucucmber
Sheep
Oscar
Mom Carrot
Mom Pea
Dad Pea
Baby Lou
Buzz Saw Louie
Harry
The Penguins
Airport George
Annie
Teddy Bear
Manuel
Harry The Parrot
Art Bigotti
Fib
Pa Asparagus & Ma Asparagus
Unnamed Asparagus Girl
The Lemon
Asparagus Girls
Space Aliens
The Cow
Red Fib
Isrealite Ark Bearers
Ark Peas
Defender of the Wall
Injuried Defender Of The Wall
Mrs. Pickle
Mr. Pickle
The Bull
Potato Mom and Dad
Potato Boy
Grandpa Scallion
Gladis Mushroom
Stan Pea
Unnamed Salesmen Scallion
Flo Mushroom
Butterfly
Construction Worker Pea
The Clown of Burger Bell
Junior's Penguin
Bob's Cat
Percy's Bear
The Chicken
Unnamed Asparagus Boy
Pa Mushroom
Larry Mushroom
Unnamed Mushroom Women
Johnny Mushroom
French Cucumber
Usa Cucumber
Kenny Chilli
Mr. Pepper
Newspaper Pea
Baby Cucumber
Unnamed Carrot Men
Tim Carrot
Ed Carrot
Larry Scallion
Grandpa Carrot
Gordy
Blueberry Daughter
Barth
Kyle Carrot
Bobby Pumpkin
Tom Scallion
Mr. Scallion
The Rumor Weed
Mrs. Cucumber
Women in the Window
King George's Father
Rubber Duck
Manatee Doll
Bill
Barbara
Barbara Manatee Singers
Esther Babylon
Queen Vashti
Miss Achmetha
Crony Scallion
Cow Boy Pea
Unnamed Zucchini Girl
Grape Girl
Unnamed Onion Lady
Crony Peas
The Grim Tickler
Cardboard Cutout People
Apollo Gourd
Pea Monks
The Astonishing Contraption of Silliness
Do the Moo Shoo Singers
Porcupines
Khalil
Aaron
Reuben
Simeon
Levi
Izzy
Zeb
Gad
Ash
Dan
Natty
Jude
Hope
Lutfi
Soleil
Oscar
Unnamed Village Man
Mary
A Pea With Brown and Gray Hat and Gray Shirt
Garry Pea
Nemo Pea
Manny Pea
Villager Women with Tan Dress
Mary with Dark Pink Dress
Unnamed Nineveh Carrot Women #1
A Pea With Gray Hat and Gray Scarf
Ballad of Great Pie War chior (singing voice only)
Unnamed Nineveh Carrot Women #2
Village Man with Grenadine Pink The Southmen Poor Hat and Grenadine Pink The Southmen Poor Shirt
A Pea With Gray Hat
Knights of Scone and Rhubarb
Unnamed Carrot Peasant
A Pea With Gray Hood
Don Gourdon
Pea Lady
The Football Players Peas
Unnamed Pea Cheerleaders
Pea Girls
Marty
Leo
Pea Girl
Figaro
Unnamed Pea Girl
Marty with White Collar and Purple Tie
Leo with Barber Shop Shirt
Figaro with Barber Shop Shirt
Sporks
Eagle
Carrot Men With Brown Hair Green Stripes Shirt and Brown Rope
Other Flobbits
Land of Woe
Unnamed Village Girl
Bob Pea
Carrot Men With Brown Hair Tan Shirt and Brown Rope
Unnamed Nineveh Daughter
Carrot Men
Other Spanish citizens of Cafe LaMancha and The Food Factory
Unnamed Fly Villager
Other London citizens
The shortest carrot With Brown Hair and Reddish-Pink Shirt
Other ice cream patrons
Fly Villager with Green Olive Raggedy Shirt
The gourd With Brown Hair and Green Shirt
Janior
Bill With Yellow Hair and Yellow Shirt
Waitress
Maids
Unnamed Carrot Girl
William
Pea Boy with Long Brown Hair
Little Sister
Kurtis Carrot
Unnamed Pea Boy
Little Sister with Light Orange Hair
Pepper Poppyseed
Carrot Girl With Yellow Hair
Dirk Evert
Emily Evert
Little Nate
Unnamed Orphan Girl
Papaya with Orange Hair
Dirk with Yellow Hair
Kurtis with Blue and White Shirt
Orphan Girl with Freckles
Unnamed Carrot Boy
Papaya
The Bad Apple
Ephraim Apply
Curly the Worm
Pilgrim Carrots
Unnamed carrot citizens
Leo with Construction Worker
Figaro with Construction Worker
Carrot Lady with Purple Dress
Dockus Corota with Blue Suit
Suzie with Blue Sweater
Arthur With Light Blue Collared Shirt
Carrot Lady with Red Dress
Dockus Corota with Green Suit
Suzie with Pink Sweater
Arthur With Beau Blue Collared Shirt
Docter Carrot
Unnamed pea citizens
Unnamed firefighters
Carrot Lady
Dockus Corota
Suzie
Arthur
Department of Merriment Clown
Mary Mueller
Carrot Men With Green Stripes Shirt and Brown Rope
Parade Peas
Reporter
other hairy pickles
other carrots and peas
hula dancer pea
Carrot Men With Tan Shirt and Brown Rope
Parade Gourds
Mayor's Daughter
Zippy the Bison
Young Cucumber
Zucchini Brothers
Nezzer's Butler
Betty
Tutu
Unnamed Onion Guards
Alexander
Eloise
Robert the Terrible
The King
Caroline
George Jr.
Lucy
Jacob Lewis
Pirate Cucumber
Pirate Gourd
Sid Pea
Pea Boy with Long Yellow Hair
Bill with Brown Hair and Blue Shirt
George Jr. With The Brown Hair
Dinner Theater Pirates
Jolly Joes Singers
Photo Grapher
Blind Man
Goldfish
German Peas
Potato Guys
Lumberjack Potatoes
Steve
Potato Guys with Blue Shirt
London Policemens
Grandpa Gourd
Unnamed Scallion Men
Unnamed Scallion Men 2
Unnamed Scallion 3
Potato Guys with Pink Shirt
The Shepherd Grapes
Boo Boo Birds
Villager Women with Teal Blue Dress
Fly Villager with Brown Raggedy Shirt
Joshua the Camel
Paprika Poppyseed
Unnamed Carrot Girl
Carrot Girl With Brown Hair
Papaya with Brown Hair
Kurtis with Red Shirt
Orphan Girl with Peach Hair
Paprika with Pink and White Dress
Unnmaed scallion daugthers
Little Drummer Boy
Unnamed Greece Newspaper Boy
Mary with Blue Dress
Villager Woman with Brown Hair and Tan Dress
Unnamed Winter Carrots
Villager Old Man With Red Sweater
Carrot Men With Green Sweater
Greece Citizens
Joseph With Tan Shirt
Unnamed Greece Customer Girl
Mary with Rainbow Dress
Villager Women with Blue Dress
Joseph
Unnamed Carrot Shepard
Villager Women with Green Dress
Potato Guards
Wicker
Dirk with Brown Hair
Mexican Potatoes
Dory Pea
Alfredo
Paprika with Blue Dress
Kitchen Remodel Manager
Newspaper Boy
Pizza Delivery Man
The Ducklings
Steven
Sharpie
The Staplers
Light Bulbs
Legal Pads
Highlighters
Papers
Paper Clips
Rubber Bands
Parsley Poppyseed
Mirror
Snoodlerella
Snoodlerella's Stepsnoodle
Snoodlerella's Stepsisters
King Snoodle
Snoodles in Snoostien
Unbrilliant
Rockwell Carrots
Art and Barney
Chef Pea
Gabe
Emma Green
The Pea Girl
George Jr. With The Yellow Hair
Teddy McFluffinton
Kid Grape
Gary the Robot Bunny
Cassie Cassava
Drummer Scallion
Piano Scallion
Vanna Banana
Pigs
Unnamed cucumber Boy
Peas With Beady Eyes
Unnamed tomato girl
Unnmaed little carrot boy
Unnamed gourd girl
Baa Baa the Lamb
Sameson the Donkey
Mary with Yellow Dress
Villager Women with Brown Dress
Mary with Blue Hood and Dress
Ermie Asparagus
Bethlingham Citizens
Sara Crewe
Dr. Flurry
Dr. Flurry's minions
Michael's Cousin Steve
Chog Norrius
Mac Carrots
Roman Grapes
Country Fan Grapes
Turnips
Silas
Christina's Mom
Krazy Kenny
Phillip Jr.
TBot
Ziggy
Steven the Blob of Jelly Meat
Charlie the Blob of Jelly Meat
Unnamed green bean
Robot Guards
Yellow robot
White robot
Another carrot builder
Green robot
Red robot
Twiki
Celery Park citizens
The Groovy Brother Fans & Crowds
Celery Park paperboy
Celery Park skateboard boy
Orchestra Member Gourd #1
Orchestra Member Gourd #2
Carrot Lady with Black Dress
Dockus Corota with Black Tuxedo
Bill With Yellow Hair and White Shirt
Orchestra Member Gourd #3
Orchestra Member Gourd #4
Bill with Brown Hair and White Shirt
Reverse Mortgage Director
Bruce Onion
Finnegan J. Beet III
Mirabelle
Sabrina
Katrina
Pastaville citizens
Cheeseville citizens
Latino Cuccaroni
Mama Comereeese
Maria Comereeese
Tiowni Cuccaroni
Larry's great grandfather
Larry's great grandmother
Shem
Sadie
Ichabeezer
Rooney
Grandma Asparagus
Bacon Bill
Motato
Mr. Pea
Silly Pea
Tiny Pea
Jenna Chive
Callie Flower
Gary Garlic
Beau Rockley
Takeasaurus
The cast and crew appeared with speaking roles.
Ad blocker interference detected!
Wikia is a free-to-use site that makes money from advertising. We have a modified experience for viewers using ad blockers

Wikia is not accessible if you've made further modifications. Remove the custom ad blocker rule(s) and the page will load as expected.