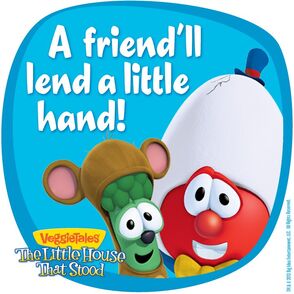 The Good Egg of Gooseville and the Visitors from Outer Space!
is a VeggieTales comic book published by Comix. It includes 70 pages of colored panels and speech bubbles. It adapts "
Twice Upon a Wall: Are You Not My Neighbor?
".
Parts of the episode cut out
Edit
The countertop scenes aren't included.
Mayor Humpty singing about being turned to the dark side is edited out.
Ad blocker interference detected!
Wikia is a free-to-use site that makes money from advertising. We have a modified experience for viewers using ad blockers

Wikia is not accessible if you've made further modifications. Remove the custom ad blocker rule(s) and the page will load as expected.