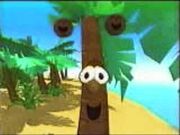 The Forgiveness Song is a new sing-along DVD and is an addition to the Sing-Alongs DVD collection, following "His Cheeseburger" and "My Baby Elf." This DVD was released at the same time as "Where Have All the Staplers Gone?"
The Forgiveness Song from God Wants Me to Forgive Them?!?
I Love My Duck from King George and the Ducky
I'm So Blue from Madame Blueberry
Wrestlers of Japan from Sumo of the Opera
Happy Tooth Day from The Little House That Stood
The Little Drummer Boy from The Little Drummer Boy
Lost Puppies from Esther: the Girl Who Became Queen
Rock Monster from The Pirates Who Don't Do Anything
Meant to Be from It's a Meaningful Life
We've Got Some News from Where's God When I'm S-Scared?
Chapter Select Music
Edit
Chapters 1-4 is an instrumental of The Forgiveness Song
Chapters 5-8 is an instrumental of Rock Monster
Chapters 9-10 is an instrumental of Meant to Be
Transition
Edit
The music clip when the song transition scene appears is a bit from The Thankfulness Song