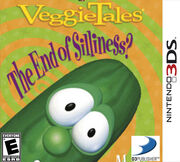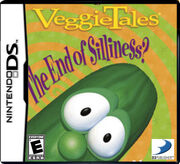 The End of Silliness is a karaoke game developed by D3 Publisher for the Wii U, Nintendo DS, and Nintendo 3DS. It is the third VeggieTales video game to be a multi-platformer. The game features gameplay mechanics similar to many karaoke games out there like Sing It!, Glee, or Band Hero. Songs are from the shows Where's God When I'm S-Scared?-Tomato Sawyer and Huckleberry Larry's Big River Rescue. This game also features a free roam where you can play as a character from a song and explore the town that Jimmy's Diner is in.
Songs
Note: The sing-along lyrics used is the font used in the actual episode of The End of Silliness
The Water Buffalo Song
The Forgiveness Song
The Hairbrush Song
I Can Be Your Friend
Good Morning George
The New and Improved Bunny Song
Big Things Too!
I Love My Lips
Oh Santa!
The Pirates Who Don't Do Anything
It's Laura's Fault
Larry-Boy!
Promised Land
Song of the Cebu
Keep Walking
Salzmunz Rap
Thankfulness Song
His Cheeseburger
The Yodeling Veterinarian of the Alps
The Rumor Weed Song
I Love My Duck
Endangered Love
The Selfishness Song
Lost Puppies
Haman's Song
The Battle is Not Ours
We're Vikings
Share of Friends
Do the Moo Shoo
Oh Little Joe!
Belly Button
Erie Canal
I Want to Dance
Sport Utility Vehicle
Larry's Blues
Pizza Angel
Rock On, LarryBoy!
The Great I Am
Lance the Turtle
A Mess Down in Egypt
Oh Lone Stranger
His Name is Darby
Monkey
Happy River
Characters (in free roam)
Unlocked
Larry the Cucumber
Jimmy Gourd
Archibald Asparagus
Lovey Asparagus
Otar
Sven
Little Joe
LarryBoy
Buzz Saw Louie
Pa Grape
Unlockable
Bob the Tomato
Rack
Shack
Benny
Palmy
Little Jimmy
The Wiggly Turtle Toobies
Shux
Jerry Gourd
Mr. Nezzer
Mr. Lunt
Olaf
Benjamin
Jude
Moe
Sally
Blind Lemon
Petunia Rhubarb
Laura Carrot
Esther
Miss Ametha
Dad Asparagus
Dr. Jiggle
Mr. Butterbun
Poole
Angel Pea
Angel Pa Grape
Pirate Larry
Pirate Lunt
Pirate Pa
Yodeling Vet Quartet
Boyz in da Sink
Darby
Munchies
King Xerxes
Haman
Joshua
Dave
Madame Blueberry
Grandpa George
King Saul
Annie
Ad blocker interference detected!
Wikia is a free-to-use site that makes money from advertising. We have a modified experience for viewers using ad blockers

Wikia is not accessible if you've made further modifications. Remove the custom ad blocker rule(s) and the page will load as expected.