If Olaf finds out, you'll be in big trouble!
This article belongs to Phineasnferb. Please ask them before editing the article. If you do so without asking, or if the owner says no, you will get a warning. If you continue, you will be blocked. (July 31, 2013)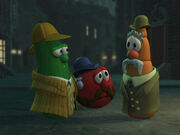 The seventh VeggieTales chapter book. It is 108 pages long with 8 pages of color inserts from the video. It was published by Scholastic. The book adapts "Sheerluck Holmes and the Golden Ruler".
Changes from the episode
Edit
There are no changes at all
Additions to the book
Edit
Sheerluck offers to eat Watson's cake at one point
There is an additional maid at Watson's house
Jerry comes in, telling Sheerluck about what he thought Scooter said