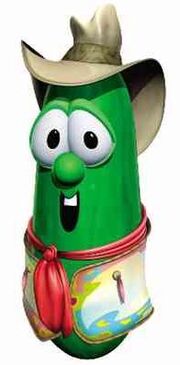 The Ballad of Benjamin
can be considered a follow-up to
Taran, The Amiable Viking
.
The Countertop
Edit
The episode opens with Bob and Larry on the countertop. They go over to QWERTY, who has a question from a person. It's Tom Hanks, famous for his roles as "Forrest Gump", Detective Turner in "Turner and Hooch", James A. Lovell in "Apollo 13", and the pull-string cowboy doll Sheriff Woody Pride in the "Toy Story" series. He says he needed to become an example of citizenship. Luckily, Bob came prepared with a story that may help the situation of being an example of good citizenship.
The Story
Edit
After many years, Taran the Amiable Viking passed away. The Vikings were very sad about the forthcoming events about Taran's death. Meanwhile, in the Old West, one of Taran's descendants, Benjamin, came in.
What We Have Learned
Edit
VeggieTales Theme Song
Out on the Prairie
Cowboy Life
The Potato Song (Silly Songs with Larry)
Show Some Citizenship!
What We Have Learned
Running Gags
Edit
Silly Song
Edit
Silly Songs with Larry "The Potato Song"
What We Have Learned song
Edit
Western
Kid They Got a Letter From
Edit
Tom Hanks
This is animated by Hawaii Animation Studios, like "Sweetpea Beauty" and "It's a Meaningful Life".
This is the second time a celebrity asks Bob and Larry a question. The first was in The League of Incredible Vegetables Return!
Music from "King George and the Ducky" and "Gideon: Tuba Warrior" is used.
This episode is known for having some of the most errors.

In addition, this episode is known to have the worst animation and poorest design of the characters, which would be a problem, but would be fixed afterwards.

The silly song, "The Potato Song", is set to the tune of "The Water Buffalo Song" from "Where's God When I'm S-Scared?". This is possibly because this episode is a Western-themed episode.
Larry the Cucumber (Benjamin)
Bob the Tomato (Sheriff Bob)
Madame Blueberry (Miss Kitty)
Scooter (McPotipher)
Annie (Cowgirl Onion)
The Scallions (Bandits of the Old West)
Percy Pea (Cowboy)
Mr. Nezzer (Prospector)
Khalil (Jimmy Quarter)
The French Peas (Cowboys)
Ad blocker interference detected!
Wikia is a free-to-use site that makes money from advertising. We have a modified experience for viewers using ad blockers

Wikia is not accessible if you've made further modifications. Remove the custom ad blocker rule(s) and the page will load as expected.