Taran, The Amiable Viking 
is a lesson in patience. The Pirates Who Don't Do Anything told this story, just like in Jonah: A VeggieTales Movie.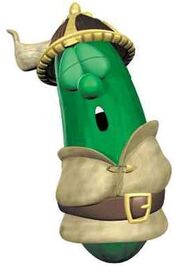 Bob the Tomato is driving Dad Asparagus and some of the Veggie children to see the popular singer "Twippo" in concert. Meanwhile, Laura Carrot is taunting the other children because she won a backstage pass. Her taunting makes Dad Asparagus accidentally hit Bob and makes him lose control of the vehicle. During the chaos, Laura loses her backstage pass as the vehicle's front tires are shot out by a porcupine, and it goes careening down a hill and stops just short of a river.
They take refuge in a nearby restaurant. Bob blames Dad Asparagus for crashing the car, and Junior blames Laura. Junior, sitting at a table alone is met by the Pirates Who Don't Do Anything. The Pirates say he was tough on his friend and encourage him to show some compassion. To illustrate, they begin to tell all the Veggies a story.
A long time ago, in a land far, far away, there lived a group of Vikings.
Back in the present day, the Veggies are disappointed in the anticlimactic ending but come to understand the point of the story: that God wants everybody to show compassion and mercy, even to those that don't seem to deserve it. Twippo (Archibald Asparagus) appears in the restaurant unexpectedly and offers to give everybody a lift to the concert, while Bob forgives Dad Asparagus and Junior gives his Twippo ticket to Laura. The film ends with a grand musical number and the arrival of the tow truck driver (Khalil), whom Twippo seems to recognize.
VeggieTales Theme Song
"Billy Joe McGuffrey"
"Bald Bunny"
"Steak and Shrimp"
"The Pirates Who Don't Do Anything"
We're Vikings
With Your Sheep, Your Sheep, Your Sheep!
Pigs, Babs, Beatles
My Life as A Viking
Patience Awaits You
Better Than Fighting
With Our Sheep, Our Sheep, Our Sheep! (reprise)
Closing Medley
Taran was a Viking
Willing to Wait (in the credits, from Abe and the Amazing Promise)
The Credits Song
Running Gags
Edit
Silly Song
Edit
Things That Might Not Be True with Khalil "Pigs, Babs, Beatles"
What We Have Learned song
Edit
None
Kid They Got a Letter From
Edit
None
This is the first episode to have interaction at a seafood restaurant since "Jonah: A VeggieTales Movie".
Larry the Cucumber (Taran, Pirate Larry)
Bob the Tomato (Benson)
Archibald Asparagus (Laurence, Twippo)
Junior Asparagus (Lyle)
Laura Carrot (Sam)
Petunia Rhubarb (Eliwony)
Khalil (Tow Truck Driver)
Percy Pea ( Kyle)
Mr. Nezzer (Olaf)
Mr. Lunt (Bjorn, Buccaneer Lunt)
Various peas, carrots, gourds, and scallions and asparagus (Villagers)
Baby Moses (green)
The Scallions (Bandits of the Sea)
The French Peas (Peasants and Vikings)
Jean-Claude and Phillipe (Seafood Restaurant Owners)
Jerry Gourd (Erik)
Jimmy Gourd (Harald)
Pa Grape (Lead Monk, Captain Pa)
Pea kids (Monks)
Ad blocker interference detected!
Wikia is a free-to-use site that makes money from advertising. We have a modified experience for viewers using ad blockers

Wikia is not accessible if you've made further modifications. Remove the custom ad blocker rule(s) and the page will load as expected.