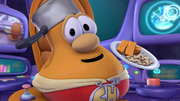 Supper Hero 
is a new sing-along DVD released and is an addition to the Sing-Alongs DVD collection, following "
Rumor Weed
" and "
Oh Lone Stranger
". This DVD was released at the same time as "
I Love My Duck
".
Supper Hero from The League of Incredible Vegetables
With a Little Hard Work from Tomato Sawyer and Huckleberry Larry's Garden of Hopes
A Mess Down in Egypt from Moe and the Big Exit
Zacchaeus from The Wonderful World of Autotainment/Bob and Larry's Sunday Morning Songs
What Can a Baby Do? from Duke and the Great Pie War
Solid Stuff from The Little House That Stood
I Love My Duck from King George and the Ducky
Oh No, What We Gonna Do? from Where's God When I'm S-Scared?
The Battle is Not Ours from Esther: the Girl Who Became Queen
Squeaky Clean from The Crisper County Charity
Chapter Select Music
Edit
The instrumental for Chapters 1-4 is A Mess Down in Egypt
The instrumental for Chapters 5-8 is Oh No, What We Gonna Do?
The instrumental for Chapters 9-10 is The Battle is Not Ours
Transition
Edit
The transition that plays inbetween songs is a bit from Larry's High Silk Hat
Ad blocker interference detected!
Wikia is a free-to-use site that makes money from advertising. We have a modified experience for viewers using ad blockers

Wikia is not accessible if you've made further modifications. Remove the custom ad blocker rule(s) and the page will load as expected.