If Olaf finds out, you'll be in big trouble!
This article belongs to Phineasnferb. Please ask them before editing the article. If you do so without asking, or if the owner says no, you will get a warning. If you continue, you will be blocked. (July 23, 2013)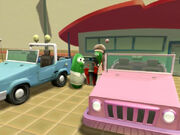 Another installment in the VeggieTales Sing-Alongs series. It was released the same time as Song of the Cebu.
Songs Included
Edit
Sport Utility Vehicle from "A Snoodle's Tale"
Show Some Respect! from "The League of Incredible Vegetables Return!"
My Aunt Came Back from "LarryBoy and the Waffle Overdose"
Busy, Busy from "Are You My Neighbor?"
Hey Jerb from "Jimmeas and Jerb"
The 8 Polish Christmas Foods from "The Little Drummer Boy"
Share of Friends from "Lyle the Kindly Viking"
Sippy Cup from "Minnesota Cuke and the Search for Noah's Umbrella"
Happy Birthday, VeggieTales! from "VeggieTales Birthday Clip-O-Rama!"
Jonah Was a Prophet from "Jonah: a VeggieTales Movie"
Chapter Selections
Edit
The instrumental for Chapters 1-4 is Sport Utility Vehicle
The instrumental for Chapters 5-8 is Hey Jerb
The instrumental for Chapters 9-10 is Jonah Was a Prophet
Transition
Edit
The transition in between songs is a bit from Keep Walking
Ad blocker interference detected!
Wikia is a free-to-use site that makes money from advertising. We have a modified experience for viewers using ad blockers

Wikia is not accessible if you've made further modifications. Remove the custom ad blocker rule(s) and the page will load as expected.