This article belongs to Phineasnferb. Please ask him/her/them before editing the article. If you do so without asking, or if the owner(s) say(s) no, you will get a warning. If you continue, you will be blocked.

(July 23, 2013)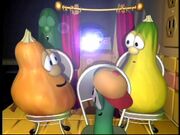 Another installment of the VeggieTales Sing-Alongs series. It was released the same time as Sport Utility Vehicle.
Songs Included
Edit
Song of the Cebú from "Josh and the Big Wall"
What Should I Buy? from "The Big Beanstalk"
Radio Sweetheart from "The Princess and the Popstar"
The Grapes of Wrath from "God Wants Me to Forgive Them?!?"
My Day from "The Wonderful World of Auto-tainment"/"Junior's Bedtime Songs"
The Rumor Weed Song from "LarryBoy and the Rumor Weed"
My Sweet Ride from "Where's God When I Need Him?"
I'm Robin Hood from "Minnesota Cuke and the Search for Samson's Hairbrush"
It's Laura's Fault from "LarryBoy and the Fib From Outer Space"
The Thankfulness Song from "Madame Blueberry"
Chapter Selection
Edit
The instrumental for Chapters 1-4 is Song of the Cebú
The instrumental for Chapters 5-8 is The Rumor Weed Song
The instrumental for Chapters 9-10 is The Thankfulness Song
Transition
Edit
The transition between songs is a bit from Keep Walking