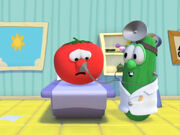 Sneeze If You Need To is a new sing-along DVD and is an addition to the Sing-Alongs DVD collection, following "I Love My Lips" and "I Can Be Your Friend." This DVD was released at the same time as "The Hopperana."
Sneeze If You Need To from Abe and the Amazing Promise
LarryBoy! from LarryBoy and the Fib from Outer Space
Solid Stuff from The Little House That Stood
Oh Santa from The Toy That Saved Christmas
When I Think About Easter from T'was the Night Before Easter
Fear Not, Daniel from Where's God When I'm S-Scared?
A Mess Down in Egypt from Moe and the Big Exit
Goodnight Junior from It's a Meaningful Life
Sippy Cup from Minnesota Cuke and the Search For Noah's Umbrella
The Battle is Not Ours from Esther: the Girl Who Became Queen
Chapter Select Music
Edit
Chapters 1-4 is an instrumental of Sneeze If You Need To
Chapters 5-8 is an instrumental of A Mess Down in Egypt
Chapters 9-10 is an instrumental of Sippy Cup
Transition
Edit
The music clip when the song transition scene appears is a bit from Yo Ho Hero
Ad blocker interference detected!
Wikia is a free-to-use site that makes money from advertising. We have a modified experience for viewers using ad blockers

Wikia is not accessible if you've made further modifications. Remove the custom ad blocker rule(s) and the page will load as expected.