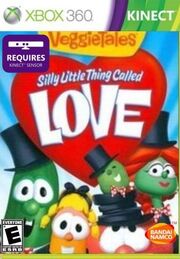 Silly Little Thing Called Love is a puzzle game developed by Bandai Namco for the Wii U and Xbox 360. It is the second VeggieTales video game to be a multi-platformer. The game features gameplay mechanics similar to the Rack, Shack, and Benny game, with puzzles based on the episodes and silly songs seen in the Silly Little Thing Called Love collection. Gameplay is also similar to Mario Party, Crashmo, Professor Layton, Kingdom Hearts, and Tetris.
Ad blocker interference detected!
Wikia is a free-to-use site that makes money from advertising. We have a modified experience for viewers using ad blockers

Wikia is not accessible if you've made further modifications. Remove the custom ad blocker rule(s) and the page will load as expected.