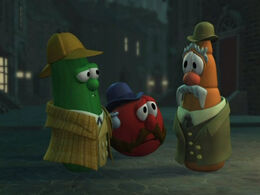 Sheerluck Holmes and the Case of the Missing Moderation!
is an episode that's a sequel to "Sheerluck Holmes and the Golden Ruler", which was released in 2006. It has a lesson in overindulgence, like in "
Massproduction Madness
". Plus, "Too Much is Bad!" is sung again.
VeggieTales Theme Song
Call on Us
For Enjoyment
A Ponderosa Game Barn
Detective Pirates!
Too Much is Bad!
For Enjoyment (Reprise)
Running Gags
Edit
Silly Song
Edit
Silly Songs with Larry "Detective Pirates"
What We Have Learned song
Edit
None
Kid They Got a Letter From
Edit
None
Larry the Cucumber as Sheerluck Holmes
Bob the Tomato as Dr. Watson
Mr. Nezzer as Detective Bill Trout
Mr. Lunt as Sergeant John Spud
Archibald Asparagus as the Prime Minister
Jimmy and Jerry Gourd
Scooter as England Yard policeman
Phillipe and Jean-Claude
Peas as Guards
Scallion 1 as the Evil Moderation-Stealing Wizard
Ad blocker interference detected!
Wikia is a free-to-use site that makes money from advertising. We have a modified experience for viewers using ad blockers

Wikia is not accessible if you've made further modifications. Remove the custom ad blocker rule(s) and the page will load as expected.