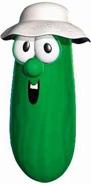 Operation P-I-E is A new episode of VeggieTales the adventures of five 10-year-old children who operate from a high-tech tree house. Their mission is to fight "crimes" against kids, such as homework and flossing, committed by adults, senior citizens, teenagers, and other "evil" children. They make up what is known as Sector V of a worldwide organization called the Veggies Next Door.
The Countertop
Edit
Bob and Larry introduce the show normally for a change then go to QWERTY's screen to Alfred to get the letter Bill and Bob said to roll the film
Operation: P-I-E
Edit
The Veggies Next Door attempts to stop a birthday party for their arch-enemies, the Delightful Children From Down The Lane. The task is made complicated by the presence of The Big Badolescence, a girl who grows alarmingly in size and strength when she does not get her way
Closing Countertop
Edit
Larry and Bob liked the stories and then it was time to talk about what they learned. They got their verse and talked over the moral of the story. Mason said thank you and then Bob, Larry, and Alfred said good bye.
Codename: Veggies Next Door is parody of Codename: Kids Next Door
The Countertop
Edit
Bob the Tomato
Larry the Cucumber
Alfred
QWERTY
Operation: P-I-E
Edit
Number 1 (Alfred)
Number 2 (Thingamabob)
Number 3 (Vouge)
Number 4 (S-Cape)
Number 5 (Ricochet)
Number 6 (LarryBoy)
Citizens of Bumblyburg
Carrots and Peas
Ad blocker interference detected!
Wikia is a free-to-use site that makes money from advertising. We have a modified experience for viewers using ad blockers

Wikia is not accessible if you've made further modifications. Remove the custom ad blocker rule(s) and the page will load as expected.