If Olaf finds out, you'll be in big trouble!
This article belongs to Phineasnferb. Please ask them before editing the article. If you do so without asking, or if the owner says no, you will get a warning. If you continue, you will be blocked. (July 23, 2013)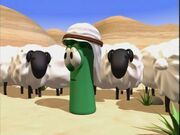 One Giant, One Little Guy is the second VeggieTales chapter book published by Scholastic. It is 96 pages long with 8 full-color inserts from the video. The book is based on "Dave and the Giant Pickle."
Changes from the episode
Edit
Dave doesn't sing "Big Things Too." Instead, he explains why he should fight Goliath
Additions to the book
Edit
Jimmy wonders where Dave got the pizza from, and Dave says he got it from some lions. This is a reference to "Where's God When I'm S-Scared?"
King Saul's water glass tips over due to impact