More Lessons for a Lifetime! Triple Feature is a sequel to Lessons for a Lifetime! Triple Feature. Valuable lessons about handling hurt, forgiving people, and getting along with others make this a collection to last a lifetime.
Episodes Included
Edit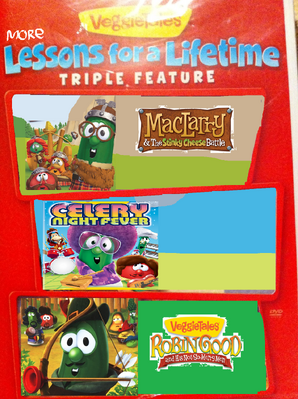 MacLarry & The Stinky Cheese Battle
Celery Night Fever
Robin Good and His Not-So Merry Men
This includes the three following silly songs: Kilts and Stilts, Perfect Puppy and Bubble Rap.
Ad blocker interference detected!
Wikia is a free-to-use site that makes money from advertising. We have a modified experience for viewers using ad blockers

Wikia is not accessible if you've made further modifications. Remove the custom ad blocker rule(s) and the page will load as expected.