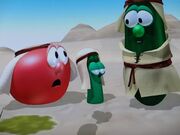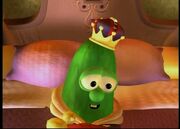 Two classic---and hilarious---episodes celebrating obeying God and being unselfish! Your 3- to 8-year-olds will be captivated, with Veggie twists on the Biblical stories of Joshua and the encounter with the walled city of Jericho, and King David's affair with Bathsheba!
Episodes Included
Edit
Josh and the Big Wall!
King George and the Ducky
Ad blocker interference detected!
Wikia is a free-to-use site that makes money from advertising. We have a modified experience for viewers using ad blockers

Wikia is not accessible if you've made further modifications. Remove the custom ad blocker rule(s) and the page will load as expected.