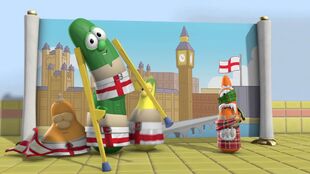 Kilts and Stilts 
is a sing-along DVD released and as an addtion to the Sing-Alongs DVD Collection, following "
The Pirates Who Don't Do Anything
" and "
The Yodeling Veterinarian of the Alps
". This DVD was released the same time as
School House Polka
Kilts and Stilts from MacLarry and the Stinky Cheese Battle
How It Used to Be from Celery Night Fever
The Great I Am from Gideon: Tuba Warrior
Jonah was a Prophet from Jonah: A VeggieTales Movie
Share of Friends from Lyle the Kindly Viking
Prince of Ham from Robin Good and His Not-So Merry Men
113 Years Ago from An Easter Carol
Monkey from The Wonderful Wizard of Ha's
You and You Alone from Pistachio
More Beautiful from Sweetpea Beauty
Bonus: The Forgiveness Song from God Wants Me to Forgive Them!?!
Chapter Selections
Edit
The instrumental for Chapters 1-4 is How it Used to Be
The instrumental for Chapters 5-8 is Monkey
The instrumental for Chapters 9-Bonus is You and You Alone
Transition
Edit
The transition in between songs is a bit from Love My Lips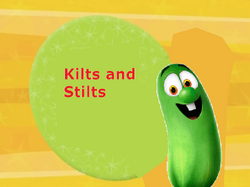 Ad blocker interference detected!
Wikia is a free-to-use site that makes money from advertising. We have a modified experience for viewers using ad blockers

Wikia is not accessible if you've made further modifications. Remove the custom ad blocker rule(s) and the page will load as expected.