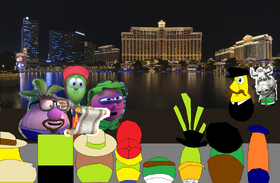 It's a Meaningful Life 2: The Rest of the Story App
is an app based on "
The Great Escape!
". It features similar features and elements to The League of Incredible Vegetables app, but the graphics are enhanced, and The Chipmunks can move faster than the League.
Put yourself IN the movie. The game follows the path of The Chipmunks, The Pirates Who Don't Do Anything, Petunia, and their friends through the movie complete with video scenes between each Act!
Gorgeous 3D environments and characters taken straight from the all-new VeggieTales DVD!
Choose your favorite VeggieTales characters to battle Mr. Marigold and his mighty gang of no-good minions across 4 acts, 6 chapters and 28 challenging levels!
Simple Tap-and-Drag controls to select, move and activate the superpowers of your heroes!
Earn Courage Coins each level to buy over 60 powers and upgrades in the Labs!
Replay missions with the different combinations of heroes to earn more Courage Coins to unlock even stronger powers!
Awesome soundtrack and sound effects straight from the movie!
Meeting Elliot and Sedgewick
Ninaborough
A Tricky Quest for a Royal Discovery
The Pirate Ship
The Marigolds are Defeated!
The End of Our Story
Hopes of Raiding Ninaborough
Merry Alvin's Ridiculous Turn of Events
Ninaborough
Writing the Slavery Interview
The Interview Speech
Mr. Marigold
A Speech to the People
A Pushover
Official Chipmunk Investigation
The Mayor's Office
Journey to a New World
Canyon Guarding
Setting Sail
The Chipmunks Climb Onboard
A Bumpy Ride
The Ship Hold
A Dream/Nightmare
The Storm Hits
38 Years Ago...
An Encounter with a Shark
"I Gotta Get Her Back!"
Thar She Blows!
Calvin the Grumpy
Luggage Stealer
A Great, Big Whirlpool!
Plans for a Parade
Bridge Machine
Marigolds Defeated!
Ad blocker interference detected!
Wikia is a free-to-use site that makes money from advertising. We have a modified experience for viewers using ad blockers

Wikia is not accessible if you've made further modifications. Remove the custom ad blocker rule(s) and the page will load as expected.