I Love My Duck
is a new sing-along DVD released and is an addition to the Sing-Alongs DVD collection. This DVD was released the same time as "
Supper Hero
".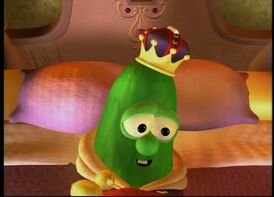 I Love My Duck from King George and the Ducky
Perfect Puppy from Celery Night Fever
Asteroid Cowboys from Veggies In Space: The Fennel Frontier
Second Chances from Jonah: a VeggieTales Movie
Happy Ki-Yi Birthday from The Ballad of Little Joe
The Mighty Mississippi from Tomato Sawyer and Huckleberry Larry's Big River Rescue
The Worst Barber-Barian from MacLarry and the Stinky Cheese Battle
The Pirates Who Don't Do Anything from Very Silly Songs!
Astonishing Wigs from Princess and the Popstar
Show You Love from Beauty and the Beet
Chapter Select Music
Edit
The instrumental for Chapters 1-4 is I Love My Duck
The instrumental for Chapters 5-8 is The Mighty Mississippi
The instrumental for Chapters 9-10 is Astonishing Wigs
Transition
Edit
The transition in between songs is a bit from Rock On, LarryBoy.
Ad blocker interference detected!
Wikia is a free-to-use site that makes money from advertising. We have a modified experience for viewers using ad blockers

Wikia is not accessible if you've made further modifications. Remove the custom ad blocker rule(s) and the page will load as expected.