Heroic Legends! Triple Feature
is a technical sequel to both 
Lessons for a Lifetime! Triple Feature
and 
More Lessons for a Lifetime! Triple Feature
.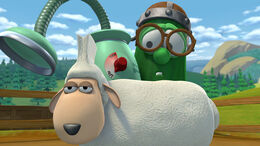 A BIG battle between two feuding tribes, a BIG band of merry men, and a BIG dream for three superstars are all part of the BIG fun of three classic VeggieTales' stories! Valuable lessons about handling hurt, the power of courage, and getting along with others make this a collection to last a lifetime.
Episodes Included
Edit
MacLarry and the Stinky Cheese Battle
Robin Good and His Not-So Merry Men
This has the same stories from "More Lessons for a Lifetime! Triple Feature", but "It's a Meaningful Life 2: The Rest of the Story" is in place of "Celery Night Fever".
This is one of the few DVDs where you can find any of MacLarry and the Stinky Cheese Battle and Robin Good in their original aspect widescreen ratios (including both the silly songs "Kilts and Stilts" and "Bubble Rap").
Ad blocker interference detected!
Wikia is a free-to-use site that makes money from advertising. We have a modified experience for viewers using ad blockers

Wikia is not accessible if you've made further modifications. Remove the custom ad blocker rule(s) and the page will load as expected.