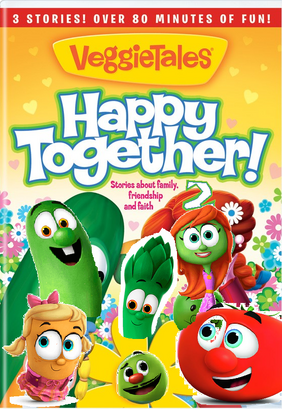 Happy Together! 2 
is a compilation of caring related stories from the show. It is a technical sequel to Happy Together. The Veggie Kids are interviewed in this too.
Episodes Included
Edit
Sweetpea Beauty
Daniel and the Lions' Den (from Where's God When I'm S-Scared?)
Silly Songs Included
Edit
Goodnight Junior (from It's a Meaningful Life)
Mac and Cheese (from Beauty and the Beet)
My Teenage Elf (from A Chipmunk Christmas)
Fit for a Queen (and reprise)
Best Freend
More Beautiful (and reprise)
Banished
Goodnight Junior
Ugly, Hairy Plan
Action Scene!
King Darius Suite
Oh No! What We Gonna Do?
We've Got Some News
Fear Not, Daniel
You Were in His Hand
Mac and Cheese
Better Than Friends
Strange Things are Coming My Way
How it Used to Be
Woody's Song
I Couldn't Sail No Longer
The Battle is Not Ours
Larry the Cucumber (Sheriff Woody, Daniel, Prince Larry)
Bob the Tomato (Buzz Lightyear)
Petunia Rhubarb (Sweetpea Beauty)
Junior Asparagus (Andy)
Ermie Asparagus (Molly)
Mom Asparagus (Mrs. Davis)
Mr. Lunt (Mr. Gourd/Potato Head, Minstrel Dave)
Madame Blueberry (Bo Peep, Queen Blueberry)
Pa Grape (Sarge, Sweetpea's Father)
Archibald Asparagus (Guard, King Darius, Slinky Dog)
The Scallions (Wisemen, Queen's Advisors)
Jimmy (Minstrel Pete, Hamm)
Jerry (Guard, Rex)
The French Peas (Seven Snow Peas, Squeeze Toy Aliens)
Mabel and Penelope (The King's Maids)
The Talking Mirror
Charlie Pincher (Sid)
Scud
Khalil (Lenny)
Ad blocker interference detected!
Wikia is a free-to-use site that makes money from advertising. We have a modified experience for viewers using ad blockers

Wikia is not accessible if you've made further modifications. Remove the custom ad blocker rule(s) and the page will load as expected.