Everyone's Secondary Favorite Stories is the sequel to Everyone's Favorite Stories! It includes more of the cast's favorite stories, not their first favorite, but their second favorite.
Stories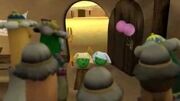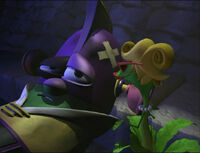 Larry's Favorite: Larry's Lagoon
Bob's Favorite: The League of Incredible Vegetables
Junior's Favorite: Bully Trouble
Laura's Favorite: Babysitter in de Nile
Petunia's Favorite: It's a Meaningful Life
Jimmy's Favorite: Omlet
Jerry's Favorite: Going Up
The French Pea's Favorite: T'was the Night Before Easter
Pa Grape's Favorite: Very Silly Songs
Mr. Nezzer's Favorite: The Toy That Saved Christmas
Mr. Lunt's Favorite: Robin Good and His Not-So-Merry Men
Madame Blueberry's Favorite: Sweetpea Beauty
Archibald's Favorite: Lyle the Kindly Viking
Mom Asparagus's Favorite: Pistachio
Dad Asparagus's Favorite: Lord of the Beans
Percy's Favorite: LarryBoy and the Rumor Weed
The Scallions' Favorite: Mia's Ministry
The Peach's Favorite: Minnesota Cuke and the Search For Noah's Umbrella
Ad blocker interference detected!
Wikia is a free-to-use site that makes money from advertising. We have a modified experience for viewers using ad blockers

Wikia is not accessible if you've made further modifications. Remove the custom ad blocker rule(s) and the page will load as expected.