If Olaf finds out, you'll be in big trouble!
This article belongs to Phineasnferb. Please ask them before editing the article. If you do so without asking, or if the owner says no, you will get a warning. If you continue, you will be blocked. (July 23, 2013)
An all-new collection from VeggieTales! Bob, Larry, and the rest of the crew present their favorite stories from the show in one big collection!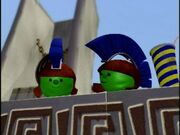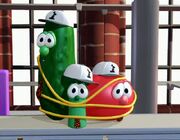 Larry's favorite: "Daniel and the Lion's Den"
Bob's favorite: "Josh and the Big Wall"
Junior's favorite: "Junior and the Contest"
Laura's favorite: "The Princess and the Popstar"
Petunia's favorite: "Duke and the Great Pie War"
Jimmy's favorite: "The Gourds Must Be Crazy"
Jerry's favorite: "Dave and the Giant Pickle"
The French Peas' favorite: "Coast to Coast: The Story of the Cucumber of Florida"
Pa Grape's favorite: "The Grapes of Wrath"
Mr. Nezzer's favorite: "Rack, Shack, and Benny"
Mr. Lunt's favorite: "Esther: the Girl Who Became Queen"
Madame Blueberry's favorite: "Madame Blueberry"
Alfred's favorite: "LarryBoy and the Waffle Overdose"
Mom Asparagus' favorite: "Tales from the Crisper"
Dad Asparagus' favorite: "The Big Beanstalk"
Percy's favorite: "LarryBoy and the Fib From Outer Space"
The Scallions' favorite: "The Ballad of Little Joe"
The Peach's favorite: "Minnesota Cuke and the Search for Samson's Hairbrush"
Ad blocker interference detected!
Wikia is a free-to-use site that makes money from advertising. We have a modified experience for viewers using ad blockers

Wikia is not accessible if you've made further modifications. Remove the custom ad blocker rule(s) and the page will load as expected.