This article belongs to Phineasnferb. Please ask him/her/them before editing the article. If you do so without asking, or if the owner(s) say(s) no, you will get a warning. If you continue, you will be blocked.

(July 23, 2013)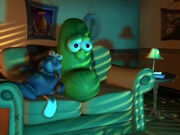 Another installment in the VeggieTales Sing-Alongs series. It was released the same time as Larry's Blues.
Songs Included
Edit
Endangered Love from "King George and the Ducky"
We're Vikings from "Lyle the Kindly Viking"
I'm a Gamer, and I'm Proud from "Minnesota Cuke and the Temple of Dough"
Temptation from "LarryBoy and the Bad Apple"
Some Veggies Went to Sea from "God Wants Me to Forgive Them?!?"
Finish Strong! from "Where's God When I Need Him?"
There's a Hole in the Bottom of the Sea from "The Wonderful World of Auto-Tainment"/"Pirates' Boatload of Fun"
A Helping Hand from "Bob Lends a Helping Hand"
The Battle Is Not Ours from "Esther: the Girl Who Became Queen"
Squeaky Clean from "The Crisper County Charity"
Chapter Selection
Edit
The instrumental for Chapters 1-4 is Endangered Love
The instrumental for Chapters 5-8 is There's a Hole in the Bottom of the Sea
The instrumental for Chapters 9-10 is Squeaky Clean
Transition
Edit
The transition between songs plays a bit of BFF (Best Friends Forever)