If Olaf finds out, you'll be in big trouble!
This article belongs to Phineasnferb. Please ask them before editing the article. If you do so without asking, or if the owner says no, you will get a warning. If you continue, you will be blocked. (July 23, 2013)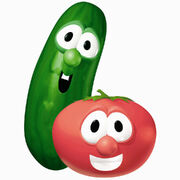 A new VeggieTales album, done entirely by Crush 40. The band, Crush 40, does 20 remixes of VeggieTales songs. It also gives the songs a little bit of feel as if it were in a Sonic the Hedgehog game.
Songs
VeggieTales Theme Song
The Water Buffalo Song from "Where's God When I'm S-Scared?"
The Hairbrush Song from "Are You My Neighbor?"
Belly Button from "The Ballad of Little Joe"
Rock On, LarryBoy from "LarryBoy and the Bad Apple"
His Cheeseburger from "Madame Blueberry"
The Bunny Song from "Rack, Shack, and Benny"
Pizza Angel from "Minnesota Cuke and the Search for Samson's Hairbrush"
Monkey from "The Wonderful Wizard of Ha's"
Can't Believe It's Christmas from "The Toy That Saved Christmas"
In the Belly of the Whale from "Jonah: a VeggieTales Movie"
The Pirates Who Don't Do Anything from "Very Silly Songs"
Lance the Turtle from "Gideon: Tuba Warrior"
I Love My Duck from "King George and the Ducky"
We're Vikings from "Lyle the Kindly Viking"
Pants from "Sweetpea Beauty"
Keep Walking from "Josh and the Big Wall"
A Mess Down in Egypt from "Moe and the Big Exit"
Yo Ho Hero from "The Pirates Who Don't Do Anything: a VeggieTales Movie"
What We Have Learned