If Olaf finds out, you'll be in big trouble!
This article belongs to Phineasnferb. Please ask them before editing the article. If you do so without asking, or if the owner says no, you will get a warning. If you continue, you will be blocked. (July 23, 2013)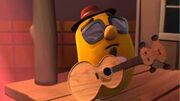 An album following Bob & Larry 70's, 80's, Country, and today's hits. Bob, Larry, and the rest of the veggie gang sing songs from favorite kids shows. There are 16 tracks.
Songs
Shows who performs the song on the album in parenthesis, not the actual artist
Dora the Explorer Theme from Dora the Explorer (Laura, Junior, Lenny, Percy, Vanna Banana)
FUN Song from SpongeBob Squarepants (Larry and the Fib)
Sesame Street Theme from Sesame Street (Larry, Alfred, Miss Achmetha, Junior, Mr. Lunt, Jerry, Jimmy, Bob, Jean Claude, Phillipe, Pa Grape, Mr. Nezzer, Petunia, Madame Blueberry, Blind Lemon and Annie)
Tellitubies Theme from Tellitubies (Mr. Lunt)
Gitchee Gitchee Goo from Phineas and Ferb (Larry, Petunia, Madame Blueberry, Mr. Nezzer)
Christmas Everyday from The Fairly Odd Parents (Junior, Mom Asparagus, Dad Asparagus, Mr. Nezzer)
Fair and Square from 3-2-1 Penguins! (Larry, Bob, Jimmy, Jerry)
Bob the Builder Theme from Bob the Builder (Alfred, Mr. Nezzer, Mr. Lunt)
Jane and the Dragon Theme from Jane and the Dragon (Alfred)
Use Your Noodle from PB & J Otter (Junior, Laura, Percy)
Blue's Clues from Blue's Clues (Mr. Lunt and Benny)
Oobi Theme from Oobi (Dad Asparagus, Junior, Percy)
Mary Moo Cow from Arthur (Madame Blueberry)
Training Mix from Gravity Falls (Blind Lemon)
Toot and Puddle Theme from Toot and Puddle (Larry and Bob)
Hot Dog from Mickey Mouse Clubhouse (Larry, Alfred, Miss Achmetha, Junior, Mr. Lunt, Jerry, Jimmy, Bob, Jean Claude, Phillipe, Pa Grape, Mr. Nezzer, Petunia, Madame Blueberry, Blind Lemon and Annie)