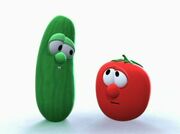 25 Favorite Showstopper Songs is another installment in the 25 Favorite series. This CD includes 25 tracks based on shows and what not, from the episodes and the music CDs. This album will be available in stores and on iTunes.
The Audition Song from Tw'as the Night Before Easter
Where Have All the Staplers Gone? from Pistachio
Do Lord/I'll Fly Away from O Veggie Where Art Thou?
A Friend is A Friend from Have We Got a Show For You!
Jonah Was a Prophet from Jonah: a VeggieTales Movie
Consider Yourself from Junior's Playtime Songs
A Bushel and a Peck from Junior's Bedtime Songs
This Little Light of Mine from Rock-a-bye Veggie
His Cheeseburger from Madame Blueberry
Belly Button from The Ballad of Little Joe
Crocodile Rock from Bob & Larry Sing the 70's
On the Road Again from On the Road with Bob & Larry
Big House from Christian Hit Music
Endangered Love from King George and the Ducky
God is Bigger from Where's God When I'm S-Scared?
The New and Improved Bunny Song from Rack, Shack, and Benny
Did You Ever See a Lassie/My Ducky Lies Over the Ocean from Pirates' Boatload of Fun
Candy Cane Blues from The Incredible Singing Christmas Tree
What We Gonna Do? from The Pirates Who Don't Do Anything
Promised Land from Josh and the Big Wall
I Want to Dance from A Snoodle's Tale
Ring Little Bells from A Very Veggie Christmas
Gourds Just Wanna Have Fun from Bob & Larry Sing the 80's
I Can Be Your Friend from Are You My Neighbor?
Life is a Highway from Bob & Larry Go Country
Ad blocker interference detected!
Wikia is a free-to-use site that makes money from advertising. We have a modified experience for viewers using ad blockers

Wikia is not accessible if you've made further modifications. Remove the custom ad blocker rule(s) and the page will load as expected.