If Olaf finds out, you'll be in big trouble!
This article belongs to Phineasnferb. Please ask them before editing the article. If you do so without asking, or if the owner says no, you will get a warning. If you continue, you will be blocked. (July 24, 2013)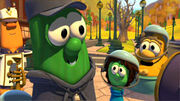 The next installment in the VeggieTales Sing-Alongs series. It was released the same time as Larry's High Silk Hat.
Songs
110 Percent from "It's a Meaningful Life"
Haman's Song from "Esther: the Girl Who Became Queen"
Astonishing Wigs from "The Princess and the Popstar"
I Tried To Be Patient from "Rack, Shack, and Benny"
Because I Listened from "Noah and the Big Rain"
Ballad of the Pie War from "Duke and the Great Pie War"
Banished! from "Sweetpea Beauty"
Temptation Song from "LarryBoy and the Bad Apple"
I Must Have It from "King George and the Ducky"
Beat Up Thingamabob! from "LarryBoy and the Waffle Overdose"
Bonus. Grumpy Kids from "The Toy That Saved Christmas"
Chapter Selections
The instrumental for Chapters 1-4 is 110 Percent
The instrumental for Chapters 5-8 is Ballad of the Pie War
The instrumental for Chapters 9-Bonus is I Must Have It
Song Preview
The instrumental for in between the songs is Pants
Ad blocker interference detected!
Wikia is a free-to-use site that makes money from advertising. We have a modified experience for viewers using ad blockers

Wikia is not accessible if you've made further modifications. Remove the custom ad blocker rule(s) and the page will load as expected.